Event Profile
QE Spring Marathon & Half - 2020


22 August 2020
Queen Elizabeth Spring Marathon & Half
CURRENTLY POSTPONED - WILL GO AHEAD AT EARLIEST OPPORTUNITY
Queen Elizabeth Country Park, PO8 0QE

29 March 2020
Marathon starts at 09:30, Half at 10:30
Fully marked, good quality trails with views and hills
Chip-timed start and finish
Aid stations every 7k and well stocked
Bespoke one-off event finisher's medal
Professional medics at base and out on course
Results on Runbritain
Summary: Run entirely on a half-marathon course within the country park (and the adjacent, aptly named "Head Down" plantation) this is a trail run along well kept trails that even after the long winter should be nicely runnable. There are some hilly challenges that will take you on journey of over 500 metres of elevation gain over that half-marathon loop.
Once away from the busy front part of the country park, you will find yourself in the quiet peaceful forest, often with glimpses of wildlife. Later, as you are on the last high point before you drop down to the finish area, there are long views through the clearings to the Solent and Isle of Wight.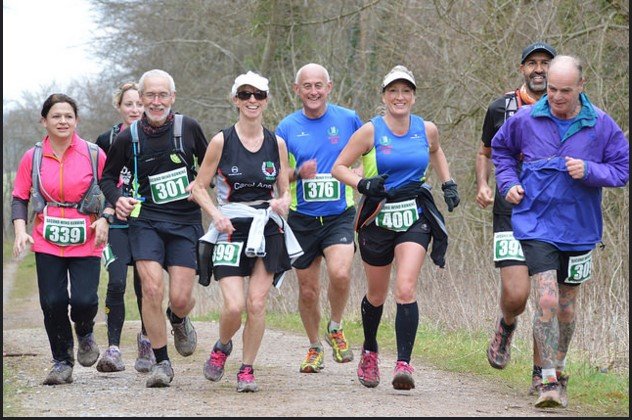 There are expected to be around 400 entrants in total, so there will be plenty of people around without it being busy.
Course: Both routes run on the same course, with the marathon being two loops.
The route is fully marked with signs and Hampshire Search & Rescue marshals to keep an eye on you. You'll never be far from the next water/feed station, with the placed along the way every 7kms or so.
Mostly this is off-road, with short stretch of tarmac between the country park and "Head Down". Please be aware that the quiet country lane roads are not closed to traffic.
We expect everyone to be be finished by 4PM (that's 6½ hours for the marathon), so a cutoff of 3 hours will be applied for setting out on the second lap.
Map: Click here for a Google map
Simplified maps of the course will also be available on the day, but if you want to be properly familiar with the route before raceday, keep a look out for the recces that often we run in the weeks before race-day. News of these will be on our Facebook page.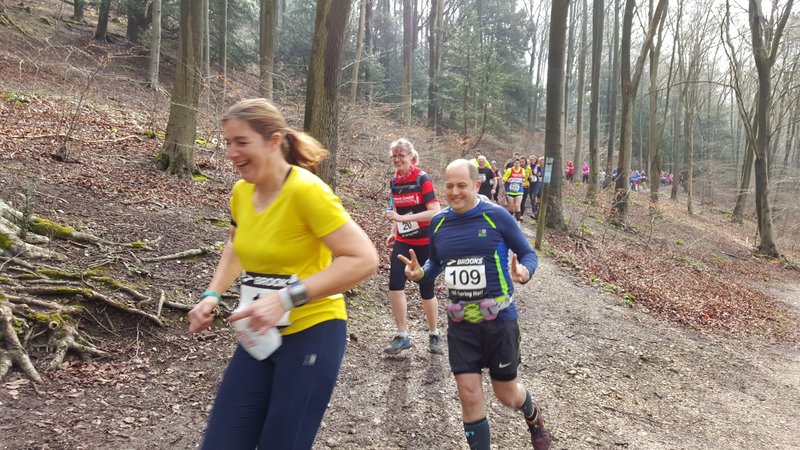 Terrain: The route has no particularly technical challenges. The first climb at around ½ mile is short and steep, and often walked by those saving their energy for later. Given the time of year, there will likely be some slippery stretches from time to time, but none too long or particularly steep. The entire route should be on runnable terrain, without any stiles or gates to climb over.
Gear: Take sufficient warm and waterproof clothing as the weather dictates. Footwear is advised to be trail shoes with medium tread - not suitable for running spikes. You may wish to carry your own water containers to top-up at the water stations, especially on the marathon.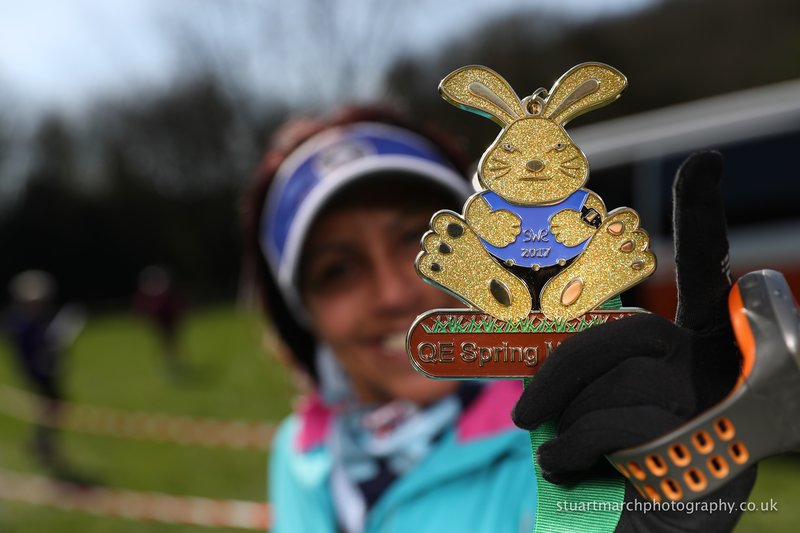 Bling: At the finish, you will receive the bespoke 2020 "QE Spring Marathon" or "QE Spring Half" medal.
Each year is a new "Spring" theme, but expect that rabbit to feature in it somewhere..
Race reports:
Kasia Lubo wrote a very nice race report: Kasia blog
Click here for an interesting blog from Jack Oates - marathon winner
Prizes in both races:
Trophies are awarded to 1st 2nd and 3rd Female and Male.
Age group awards to first V40, V50 and V60 Female and Male.
Medical cover provided by a third party specialist with a first aider at base plus a crew out on course in a 4x4 vehicle.
Races run under UK Athletics rules.
A minimum age of 18 will be applied for both races.
No dogs.
TRA permits: TBA (marathon) and TBA (half)
Event HQ Address:
Queen Elizabeth Country Park
(a3, Just South Of Petersfield)
Waterlooville
PO8 0QE
Useful Times
Event start time: 09:30:00
Registration open from: 08:30:00
The event is either closed or full.
Top/